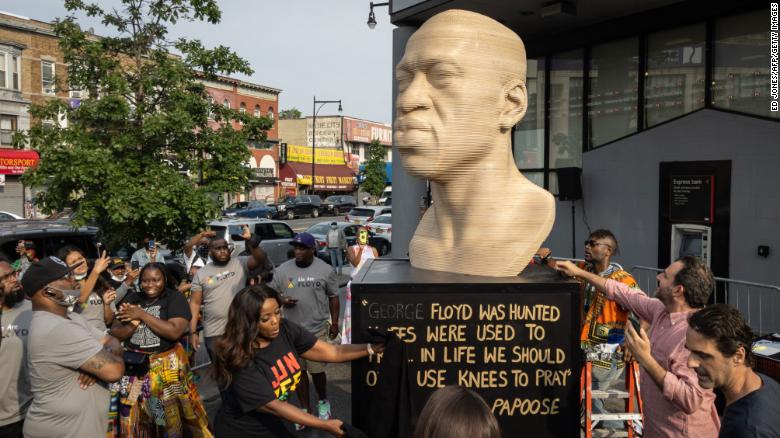 It was a quick turnaround for federal employers to recognize Juneteenth as a new federal holiday. But some cities were ready with new statues honoring George Floyd, whose killing by police in Minneapolis last year sparked a nationwide racial justice movement.
In New York City, Terrence Floyd, George Floyd's brother, unveiled a six-foot statue in Brooklyn as part of Saturday's Juneteenth celebrations. The new federal holiday commemorates the end of slavery in the United States.
The statue will be on display at Flatbush Junction for two to three weeks before moving to Union Square in Manhattan, according to CNN affiliate WABC.
On Wednesday, a statue of Floyd was unveiled in front of city hall in Newark, New Jersey.
Mayor Ras Baraka said he hopes the 700-pound bronze statue, by artist Stanley Watts, will inspire people who see it to "become active in the things, the struggles that are happening right here in Newark and right here in New Jersey."
Отсюда

Статуи уголовнику Флойду возводят по всей стране. Одну установят на Юнион Сквере в Нью Йорке - это центр города. Куда катится страна? Остановите уже наконец эту катастройку! И США ведь будут навязывать силой вот этот флойд-культ всему миру, включая тех, кто сейчас радуется тому, что творится в США. Флойды придут и в Москву, и в Киев, и в Минск и в Иерусалим, они уже в Гамбурге, Лондоне и Берлине, если кто не заметил. Они даже в Перьм и Пензу заявятся скорее рано, чем поздно! Прямо в головы ваших детей, которым бунтовать надо.