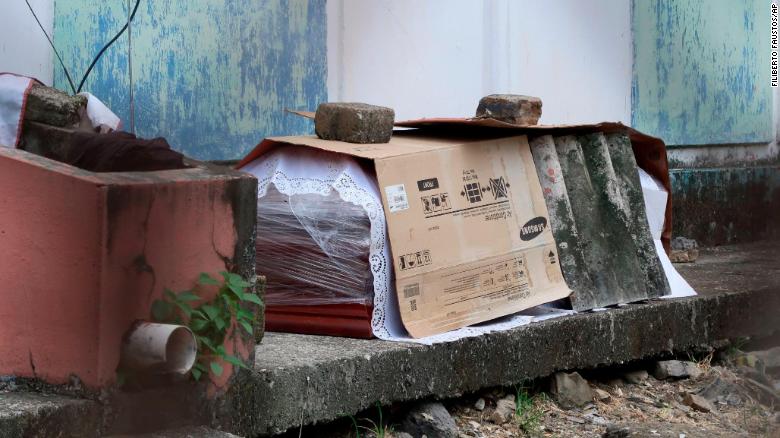 The streets of Ecuador's western city of Guayaquil are deserted, with few residents in sight -- and a few dead, as bodies are being left in the streets of this overwhelmed place.
The coronavirus pandemic is overloading this city's public services to a point of collapse. Hospitals have no beds left to accept sick patients, and morgues, cemeteries and funeral homes are straining. With no place left to put them, some residents say they have no choice but placing them outside.
It's unclear how many of the deceased are dying because of Covid-19. Many families say their loved ones had symptoms of the virus, while others only know the ill were unable to be treated at Guayaquil's overwhelmed hospitals.
The smell is too much to take. "It's the odor from the body that one can no longer handle," Espana's neighbor, Glenda Larrea Vera says in the same video, from across the street and behind a mask. "And we also have neighbors that are elderly. I have my mother who is 80 who is also having respiratory problems."
Video surveillance from last week obtained by CNN shows a motorcyclist abandon a body in the street. Hours later, a group of people, dressed in special hazmat suits are seen picking up the deceased, then driving off in a vehicle.
Отсюда

В бедном Эквадоре в городе Гуякиле погибшие от Ковида19 уже просто лежат на улицах. Их не могут похоронить даже. Это ждет всех тех, кто считает, что не так уж страшен вирус. Знаете, можно отменить мараторий и пережить нечто подобное. Есть такой эффект как Herd immunity, про который часто рассказывают, но вот о чем эпидемиологи НЕ говорят (а надо бы), что есть и другой эффект: усиление летальности. Когда вирус (и любой паразит) проходит через организм, слабые вирусные частицы уничтожаются имунной системой, происходит ОТБОР на самые живучие. Именно по этой причине часто принесенные из школы детьми простуды гораздо сильнее выкашивают родственников - патогены прошли отбор в "инкубаторе" детского организма.